A good team atmosphere is important to you too, right?
According to experience, one of the best daily team building methods is having coffee together. In such cases, colleagues get to know each other better and build friendly relationships.
A good coffee with a good cookie boosts morale!
The manager is happy when he sees his colleagues together for a fun afternoon coffee and cookies.
I can make this important program even more perfect for you.
My name is Csilla Cser, vegan confectioner, baker and dessert coach. I have a home-made dessert business and my products are truly special.
I make all desserts with great love, based on my own recipes, in a vegan way in my own kitchen. My desserts do not contain milk, eggs, honey or preservatives, so those who are lactose intolerant, egg allergic or even vegan can safely eat them.
An added bonus is that you also promote climate protection!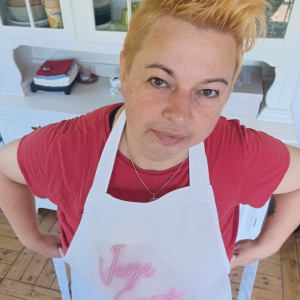 I produce all possible ingredients
myself, and therefore the flavors and
quality of my desserts are truly unique.
Don't hesitate to try them at your next
But be careful, because it's easy to get used to!
2 kg coffee dessert mix / weeks
4 different desserts / weeks:
– Coconut ball
– Prune marzipan balls
– Oatmeal crackers
– Sweet pretzels
– Fruit basket
– Raspberry biscuits
– Chocolate biscuits
– Protein plate
– Marzipan tower
3 kg coffee dessert mix / 2 weeks
5 different desserts / 2 weeks:
– Coconut ball
– Prune marzipan balls
– Oatmeal crackers
– Sweet pretzels
– Fruit basket
– Raspberry biscuits
– Chocolate biscuits
– Protein plate
– Marzipan tower
1 kg coffee dessert mix / box
6 different desserts / week:
– Coconut ball
– Prune marzipan balls
– Oatmeal crackers
– Sweet pretzels
– Fruit basket
– Raspberry Biscuits
– Chocolate biscuits
– Protein plate
– Marzipan tower