Tired of scratching your head and trying to figure out what to bake for your family and friends?
I know the struggle all too well!
Let me tell you, I went through the same dilemma myself, my friends being sensitive to eggs, lactose and gluten, my mother with diabetes, my husband and daughter who follow a traditional diet, and with my personal decision to be vegan. I know what it's like to juggle these dietary requirements.
I definitely wanted to find a way out of this situation, since baking has always been a fun for me and I wanted to keep this joy, not just get annoyed by the problems.
Whether it's a family gathering or a group of friends, I understand the challenges you face. One person can't eat dairy, another can't eat gluten, and the list goes on with various dietary restrictions. And let's not forget those who just want a traditional dessert. It's a lot of juggling, isn't it?
through a lot of learning
I have developed a completely personalized dessert baking consultation and now for a limited time it is
That's why I want to help you and guide you to make the perfect dessert that satisfies everyone's needs and which you'll be happy to create!
And just imagine! It's very easy to get started. All you have to do is click on the link and fill out our simple questionnaire for personalized advice.
But wait, this opportunity won't last forever. Our consulting capacity is 
limited, so the questionnaire is only available for a few days each month. Don't miss this opportunity to get expert advice tailored to you!
Do you know why e-mail counseling is better?
First, you won't miss any important details because everything will be in writing.

You can also re-read our advice at any time.

As you read the list of tools, you can make sure that you are fully equipped to make the most amazing desserts.
And that's not all!
You can even print out the recipes we offer, so you can follow the instructions more easily

You can more easily record your comments and suggestions directly on the recipe sheet.
And guess what's even better?
If you keep collecting these personalized recipes,
you'll have a valuable dessert recipe book to pass
down to future generations.
There's something really special about family recipes, don't you think?
So don't hesitate any longer.
Let me be your guide in the world of dessert baking.
Fill out our questionnaire now and let's make desserts together that will make everyone's taste buds dance with joy!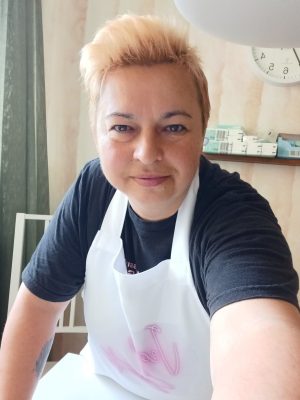 Bonus, + 3 personalized recipes as a gift!
I'm here for you, ready to make your dessert dreams come true.
Hurry up and click the link!