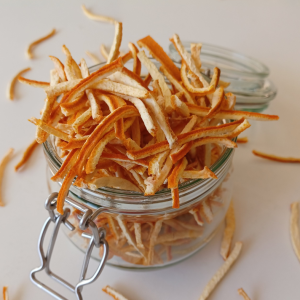 Dried orange peel
Equipment
1 Knife

1 Cutting board

1 Fruit dryer machine
Instructions
Wash the oranges thoroughly in plenty of water.

Peel the oranges so that the peel comes off in 4 pieces.

On a cutting board, cut the orange peel quarters into 3-5 mm strips with a good sharp knife.

Then cut off as much of the white part of the strips as you can.

In a fruit dehydrator, at 45 ℃, approx. it dries overnight.

After cooling, store in a sealed bottle.
Did you like the recipe? You share!