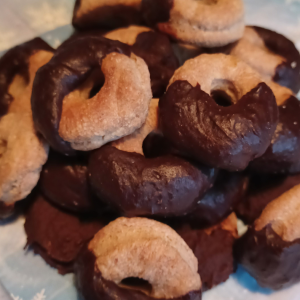 Cookies half-dipped in chocolate
Equipment
1 Bowl

1 Baking tray

1 Rolling Pin

1 Pastry board

1 Cookie cutters

2 Milk pot

or Chocolate Melting Pot
Ingredients
Dough:

500

g

Flour

250

g

Coconut butter

120

g

Date mass

1

dl

13% Coconut milk

or Coconut cream

1

dl

Oat milk

Decoration:

200

g

70% Dark chocolate
Instructions
Put the flour in a bowl and grate the coconut butter over it.

Mix this until it becomes crumbly.

When it reaches a crumbly state, add the chocolate pieces, coconut and oat milk.

For me, it came together into a dough with as much milk.

If necessary, add a little coconut milk.

Preheat the oven to 150 ℃.

Roll out the dough on a floured pastry board to a thickness of about 1 cm and cut it out with a small hole-ring cutter.

Then put it in a baking tray lined with baking paper.

Place the tray in the preheated oven.

Bake on Fan setting at 150 ℃ for 30 minutes.

Melt ⅔ of the dark chocolate over steam.

Once the chocolate has melted, remove it from the stove and add the remaining dark chocolate.

When the chocolate has melted, dip in half of each cookie ring.

Then put them in a cooler place until the chocolate hardens.
Ask for personalized recipes